Pembrokeshire 2007
The best pictures from the trip are in the gallery.
The brave souls of Bristol Channel Divers braved the rains and floods in July 2007 to venture to West Wales and the Pembrokeshire Coast. We dived with Pembrokeshire Dive Charters (PDC) onboard Blue Shark. Itís a nice little hard boat with toilet, tea and coffee facilities and some limited dry area. Plenty of space on deck for 10 divers including spare tanks. Iím sure itíd have no problem with 12 divers. Howard was skippering with additional help. It does make a difference when the skipper can just handle the boat and there is someone else to help divers enter and exit from the back. Lunch was provided on board and was a couple of rolls, fruit, choccy and sort drink.
We all stayed at the Ferry House Inn, which is a 5 minute drive from the Neyland Marina where PDC are based. I would recommend it as the rooms were nice and spacious, food was good and was reasonably priced. Not a bad B&B at all and the restaurant was obviously popular at night. Food ranged from a BIG steak to fresh sea bass/lemon sole. Bar nicely stocked and kept us happy!
Neyland Marina has free parking and PDC are based next to the car park. Trolleys are available at the marina for a refundable pound coin (youíll need one) for transporting your gear down to the pontoon. The marina is a decent size so it can be a trek to the boat. The ramp down from the car park to the pontoon can be steep especially at low tide so donít overload your trolley!
Blue Shark took around an hour to steam out to Skomer from Neyland Marina. On the way back it took slightly longer as we had to slow for the swell caused by racing tides. The sea state around Skomer can be heavily influenced by the tide. When itís racing, it can be a bumpy ride!
We did 4 dives over the two-day weekend as follows:-
Rye Rocks, Skomer
A gently sloping reef that drops off in places. Lots of kelp in the top 10m but this thins out and vanishes under 15m. Plenty of life including dogfish, urchins, spider, edible and velvet swimming crabs, lobster, crawfish and plenty of wrasse. There are a lot of rocking outcroppings which shelter a lot of life so itís worth your while to have a good look in all the nooks and crannies. Some closely spaced rocky outcrops create gullies which can be a nice swim through.
Depth - 18.9m Temperature - 15oC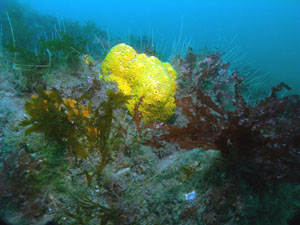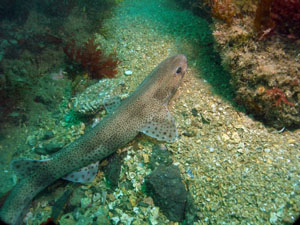 Bay on the south side.
The dive site with no name. The second dive was on the southern side of Skomer in a sheltered bay. We had 3 seal sightings but they just came into the limit of visibility, had a good stare and shot off. Nowhere near as friendly or inquisitive as the seals on Lundy. The dive itself was very Ďsiltyí with a fine dusting on all surfaces and plant life. Visibility was a tad lower than on Rye Rocks. Not a bad dive but not as good as Rye Rocks earlier that day. Life included the odd dogfish, spider and velvet swimming crabs, lobster, and the occasional fish. We came across a big shoal in poor vis and they looked along the Pollock line of fish, not 100% sure. Even though we did not get close enough for a good photo, the seals were the highlight of the dive.
Depth - 12.5m Temperature - 16oC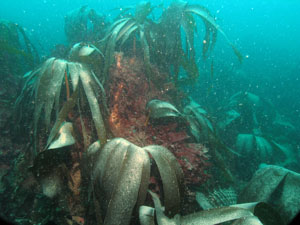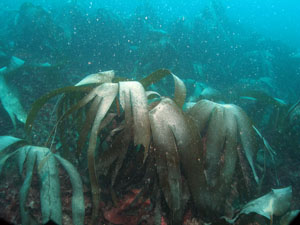 North Wall
A nice scenic dive along the northern side of Skomer. Current kicked up in places where it swirled around some of the rocking outcroppings which was a bit fierce in places but going along with the flow was fairly easy and it soon died down. Some nice scenery along the wall with big rocky outcrops and pinnacles as well as some deep gouges in the wall. Plenty of life on this current swept wall with plenty of sea fans, dog fish, crabs and various fish.
Depth - 20.7m Temperature - 16oC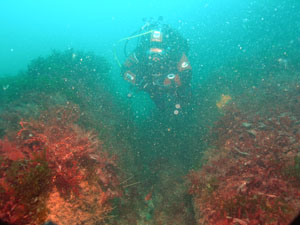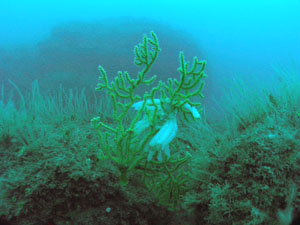 High Point
A horseshoe shaped cove with a sandy bottom. Lots of crabs and lobsters hiding in the rocky slopes down to the bottom. On the sandy bottom there are plenty of scallops (oh why did it have to be a no-take zone?) and a variety of beasties that I have yet to identify. As a nice shallow dive, take your time and make sure you go slow and keep your eyes open. Not many fish but plenty of other life to keep you interested. However be warned. This location is popular with local anglers and there is a lot of snagged fishing tackle down there including monofilament line. Make sure you donít rush this one, the rocks are covered in life with plenty of crustations hiding in all the available cracks, holes and overhangs. On the sandy bottom there are a lot of goby and blennies as well as various worms and weird life!
Depth - 19.0m Temperature - 16oC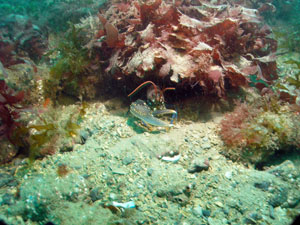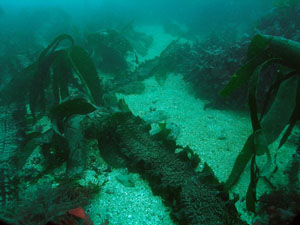 All-in-all a good weekend and weíre already booked up for the trip again in 2008.