Underwater Photography
Choosing a Camera, Photo Tips, Colour Correcting Filters and How to colour correct photographs and remove backscatter (Opens New Page)
Underwater Photographer Magazine
I've been into underwater photography since I started diving in 2004. I started with a 10m waterproof instant camera, hired a MX-10 whilst on holiday, upgraded to an Olympus mju 300 compact digital camera and now use an Olympus c-7070wz. I'll warn you, it's very addictive and it's great to see you shots in national magazines. It's not the greatest achievement but winning the Hotshots competition in the May 2006 edition of Dive magazine was a real personal highlight for me.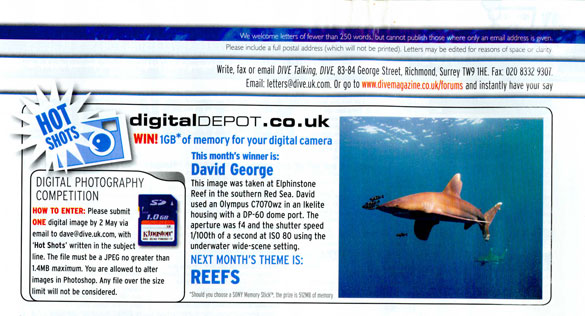 My first camera was an Olympus mju 300 with a PT-16 housing (shown below). It only had 3.2 mega pixels but lasted me 2 years of diving and I have only upgraded as I want to get a bit more serious.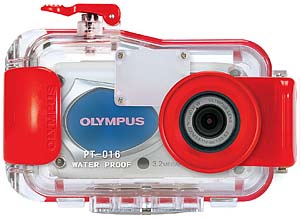 Most of the pictures in the gallery have been taken by this camera. It's easy to use and I've got some good shots with it. Obviously your not going to get many magazine grade shots but this complete set up cost less than my new camera without housing.
I have upgraded to an Olympus 7070WZ in an Ikelite housing with a DP-60 dome port. The 7070 has full manual controls which I'm still getting to grips with, but also has fully automatic modes including an underwater wide scene mode. I found the ISO setting for the underwater wide scene mode is a bit low and usually raise it up manually. The photo's from the Simply the Best gallery are all taken with this camera and edited with photoshop. Without a strobe (the internal flash cannot be used with the dome port) it gets difficult to take good shots below 10m due to the lack of light. Whilst photoshop can adjust the levels and put some colour back in, it's obvious that I need a strobe! The camera was a rare find and I would think now you will not be able to get that model any more. I got the housing from Cameras Underwater in Devon.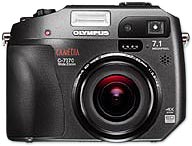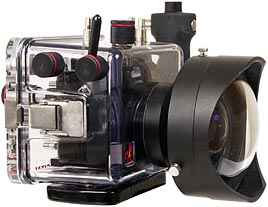 Below is are a couple of photos of me 'in action' taken by a fellow guest on Hurricane. I'm assuming the oceanic whitetip was the intended subject but got a nice shot of me in the background. Useful for impressing non-divers "YOU GOT THAT CLOSE!". Interestingly the shot is taken with my old camera! Tony flooded his on the 2nd dive of the trip and I'd brought my old camera along as back-up in case I had difficulties/flooded my new 7070wz. So I lent him my mju-300 and prayed that his flood was unlucky. All credit to Tony, he returned my camera as good as new on the last day with a memory card full of photo's!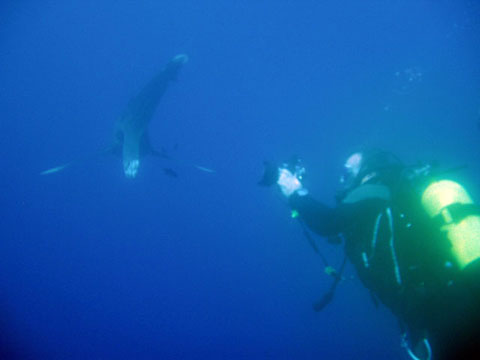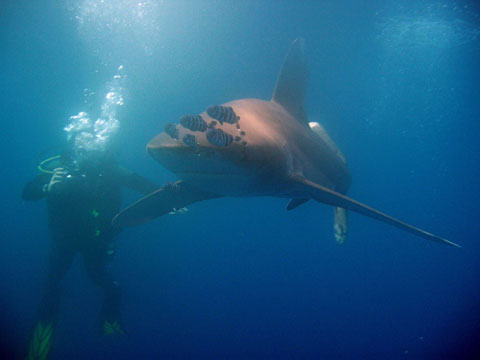 I've just (April 2006) got an Ikelite DS-125 Strobe from Cameras Underwater at the Dive Show. Hoping to try it out in May on my first dives off the south coast!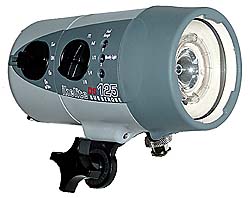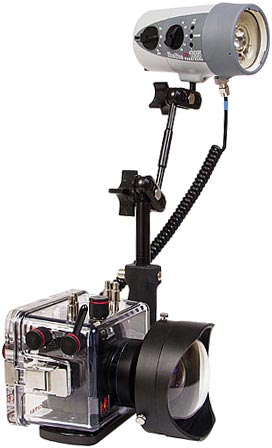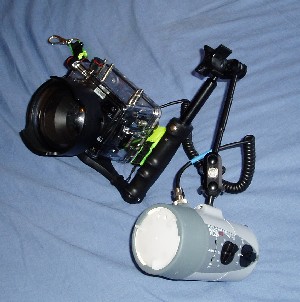 Go for the biggest card you can get. Also go for the fastest. If your shooting large files or in RAW format the write times can limit you if your trying to take several shots of a moving subject. I use a 66x speed compact flash card and that still takes a few seconds to write a RAW file. Those few seconds seem a lot longer as the shark cruises past….
I shoot my photos in RAW format. JPG removes a lot of information to compress the image, RAW keeps most of it but it results in HUGE files. My 1gb memory card can hold about 86 photos which for me is 1 dive. On a liveaboard I would need 18 x 1gb cards which would be too expensive. You have a few options for storing images when on holiday...
IPod - Some cameras are IPod compatible and can download straight from the camera onto your IPod. This only works with a few compatible cameras. Check the IPod website to see if yours works.
Laptop - Good solution but big, heavy and a target for thieves.
Image viewer - Epson and some others make devices that can download your photos and you can view them but they are expensive £350+
X-Drive - This is what I use and recommend. It's a battery powered 40gb hard drive and card reader. All you do is insert your memory card, press ON, press Copy and watch the screen as it counts up to 100%. Turn off, remove your card and it's done. At £115 is a bargain. Got mine from Bristol Cameras.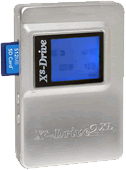 Underwater Photographer Magazine
There is a free web magazine out there which I have found very useful and can be found at http://www.uwpmag.com/.
Cameras Underwater - Sells housings, camera and housing packages, flashes etc
Bristol Cameras - Sells the X Drive that I use to store photos on dive trips