Links Page
Please note that many of these links are just ones I've come across whilst searching. Many I have never visited/dealt with and are just here to help people out! If I've made comments on a link, I've used them or had a good look at them. Got lots more to put on here... just no time.
---
London International Dive Show (LIDS) - Where I got to send the entire staff of Barclaycard on holiday to the Caribbean.
Tony Backhurst Scuba Travel - Top notch service and choice!
Explorers - Appear to be good value for money. Heard good things about them
Go Dive (Derby) - Bought a lot of gear from these when I lived in Nottingham
Underwater Explorers (Portland) - Opposite the Breakwater Dive Centre. Hired tanks and weights from here
Nottingham Scuba Centre - Did some training and got my first BCD and regs there! (Link broken?)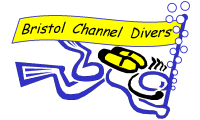 -The club I've joined
Underwater Photography On-Line Magazine (It's Free!!)
Cameras Underwater - Mail order equipment (where my housing and dome port came from)
Ocean Optics - Housings, filters etc
Breakwater Dive Centre - Did my first UK diving with these! Great shuttle boats, you can book two spaces or 12 to a great variety of dive sites.