Bristol Channel Divers
I'm a member of the Bristol Channel Divers. Please use the link below to visit the official Bristol Channel Divers website. There's lots of useful links etc on there as well as information about the club.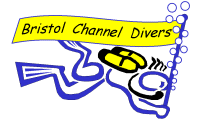 Pool
Went on my first pool session with the club in May 2006. The main reason was to check the new gear I got at the London dive show before jumping into the UK sea's at the end of the month. Was feeling a bit silly going for a 3m dive with full pony set up until I saw someone in fully "techy" mode with twinset and side slung cylinder.
Glad I did test my gear. Found that the pony leaked from the handle when turned on. Proves it's a good idea to test your kit, especially the brand new stuff, before you rely on it.
Trip reports on Falmouth, Pembrokeshire/Skomer, Lundy and Challabrough in the trip reports section!